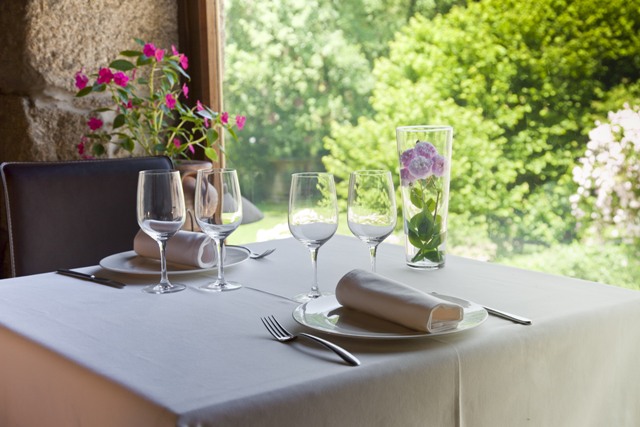 Fervenza Casa Grande&Restaurante
ROOMS

7 double-rooms.
2 special double-rooms.
Individual heating.
En suite bathroom and telephone. TV on request.
Breakfast, lunch and dinner.
Indoor facilities:
- Lounges – Dining rooms, one in the old barn - Library – Typical canteen
Outdoor facilities:
- Swimming pool - Solarium - Orchard
Activities: Guided visits to the Casa's ecomuseum – Cultural visits - Hiking – Bicycle touring – Water activities.

SERVICES


Discover the little secrets of Casa Grande da Fervenza could take a while. A time, where the visitor can enjoy the water spring rising from the old sink tap, placed next to the lareira (typical Galician fireplace) on the ground floor, or where to find out where the old trabuqueiras are (places from where the bandits who lived in the forest were kept under control).

Without leaving the dominions of the manor house, the visitor can do a guided visit to the ecomuseum, located in the Biosphere Reserve Terras do Miño. Also, the city of Lugo located quite near the house, invites our guests to visit the walls from the wall walk, or to enjoy some of the thermal treatments offered in the nearby spa.

WHAT TO SEE




The closeness of the river and the possibilities of having a bath and fishing strengthen the qualities of this site, as well as the fact of being located very close to other places of touristic interest, such as As Médulas, Montefurado, O Courel or Ribeira Sacra, where you can arrive in less than an hour drive.

WHAT TO DO




Hiking and cycling A Fervenza Wood. Kayaking and watching the otters. Visits to the ethnographic group: mill, forge, bellows, millstone, whetstone, looms… Lugo's historic quarter and Roman wall (Heritage of Mankind). Hot springs. Guided tours to Samos Monastery (6th century). Cellars and boat trips in Ribeira Sacra. Os Ancares and O Courel pallozas (small and round house made of stone and with thatched roof). As Catedrais beach and Cantabrian sea cliffs.