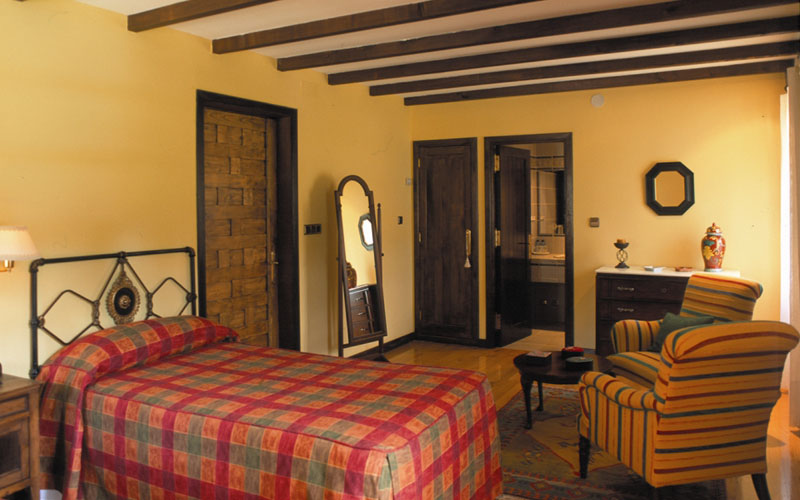 Casa Grande de Soutullo
ROOMS
There are 8 double rooms with en suite bathroom, decorated with exquisite antique furnishings restored by Gill and Benito.
SERVICES

Apart from the common services of the lounge with Wi-Fi connection, our guests can enjoy the solaina to read, the sheltered inner courtyard to relax and have a drink and the welcoming breakfast-dining room. On the Estate there is also a parking area, a garden, an orchard, a swimming pool (only for summer), woodland and a brook.
WHAT TO SEE
From Soutullo you can visit the Ribeira Sacra monasteries, the medieval town of Allariz, the Jewish quarter of Ribadavia, the Mozarabic chapel of San Miguel located inside the Monastery of Celanova (or if you would like to carry on, you could visit the VIIC. Visigothic church of Santa Comba de Bande and the I-II C. Roman camp Aquis Querquernis), the Cistercian Monastery of Oseira- Graham Green spent many summers here - , and enjoy the charming nightlife of the old town in Ourense. Also, in only 45 minutes you can visit Santiago de Compostela, Portugal or the Rías Baixas on the coast, as well as, enjoy the wonderful landscapes of the Miño River, in Belesar.
WHAT TO DO
A catamaran trip through the Sil river gorge in the Ribeira Sacra, relaxing in the spa of A Chavasqueira or Outariz, tasting the typical Galician tapas in the old town of Ourense around the XII C. Cathedral, are a few examples of what to do while staying at Soutullo. Near the Pazo, you can walk and discover the seven mills of Sequeiros, horse-riding in the nearby riding center of Coles or consult the signposted routes to do hiking. As another pilgrim, you can also walk a part of the Silver Way on The Way of Saint James, play golf at Montealegre Golf Club, or visit a wine cellar in the Ribeiro area. Within only 45 minutes distance you can have a stroll along the Rias Baixas beaches.