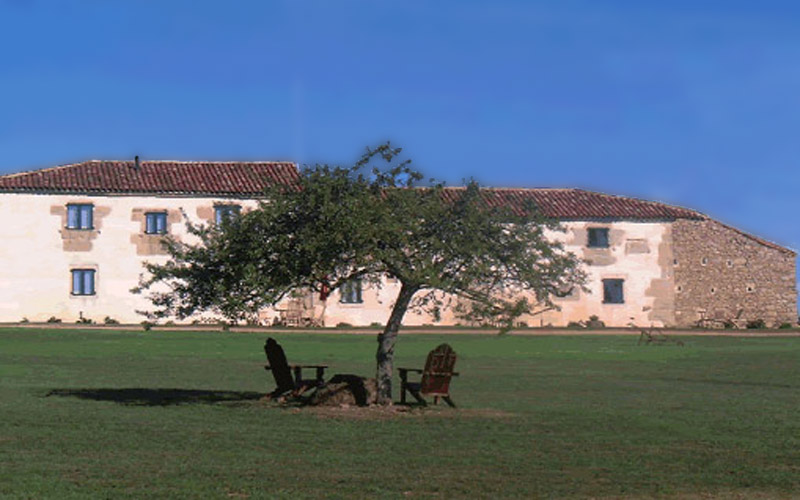 Pazo de Eidián
ROOMS

The house has 10 double rooms and 2 special rooms with more than 30m2; including en suite bathroom, television and telephone.
SERVICES

The building was built around a big arbor courtyard and it is surrounded by meadows belonging to the Pazo. Here, guests can enjoy Galician forest and art at the same time. Apart from the rooms, there are also spacious lounges where guests staying in Eidián can spend a nice time.
The estate is surrounded by a closing wall from the same period of the house and it hosts more than 15 000 m. There is restaurant service and several dining rooms, one of them preserves the original Pazo's well, oven and a lagar (a traditional press). Besides, there is another big lounge decorated with more than 20 loopholes from the period of the Carlist War. Therefore, this premises are perfect to spend some days of relax or to have lively company gatherings or celebrations (on request).
Pick-up service for guests who are doing the St. James Way on foot is also available from Melide, a village located at 5 min. by car.
WHAT TO SEE
It is located right in the heart of Galicia, on the northeast side of Pontevedra, 3 km from A Coruña and Lugo, and very close to The St. James Way on its way across Melide. Therefore, it is an exceptional place to get to know great part of Galicia and visit Santiago. It is set on a hill over the Ulla River, very close to Portodemouros reservoir, and a bike ride from one of the most romantic places in Galicia, the Pambre Castle. A part from walking along the beautiful Galician fields around the house, the visitor can also get lost either on foot or by bike in the surroundings, visit the Pazo de Borraxeiros, Pazo de Oca, Pambre Castle or San Paio de Narla, the Monasteries of Sobrado, Oseira and Carboeiro, or the churches of San Pedro de Mezonzo or Vilar de Donas. All of them are included in the list of the most important Galician monuments.
WHAT TO DO
Reading, walking or simply enjoying the time passing is a great alternative, as well as, going on a trip and visiting the before mentioned places. The house is located next to the Ulla River, reason why we offer the possibility of doing different activities in the river and in Portodemouros reservoir. Apart from this, in the Pazo, you can also find information about horse riding routes, bike touring and all the details regarding monuments and places where to taste and enjoy Galician food.