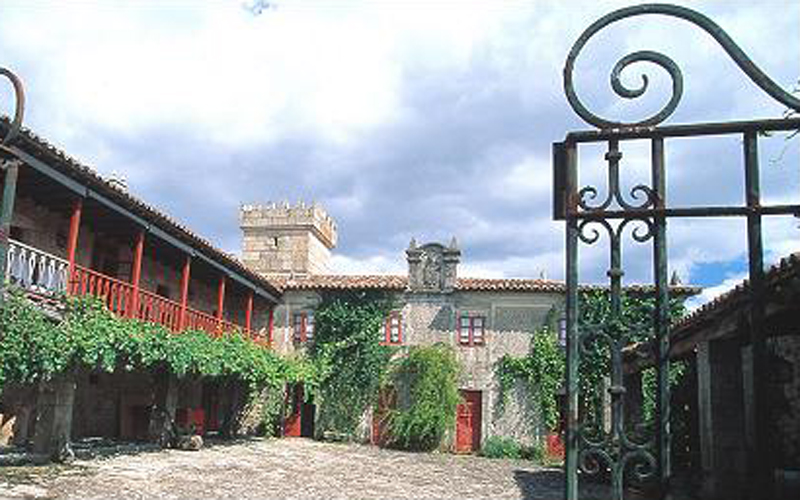 Casa Grande de Rosende
ROOMS

The Pazo has 1 special double room, 8 double rooms and 3 single rooms. Each one has en suite bathroom, television and telephone. Laundry service available. Animals are allowed.
SERVICES

The Pazo has spacious lounges and dining rooms, which provide a great possibility to relax, organize meetings and company meals. In the manor, the guest can enjoy a buffet breakfast including a large variety of homemade cakes, a selection of cold meats and fresh fruits picked up from the orchard, as well as, a traditional dinner consisting on 3 courses and 2 desserts. The wall surrounding the house estate hosts more than 10,000 m2 of vineyards and gardens making up the perfect location where to rest and enjoy nature. The sports facilities of the house include swimming pool, tennis courts and football field. There is also a golf course at 10 km (Green fee free – 9 holes).
WHAT TO SEE
The house is located in the heart of the Ribeira Sacra where the visitor can enjoy the visit to the following exceptional surroundings: the Sil river gorge, many monasteries and Roman churches (the most important concentration of Roman monuments in Western Europe), vineyards, cellars and traditional craftwork. All these sites are located in one of the best wine-producing areas with one of the deepest historical roots.
WHAT TO DO
Different excursions can be done all around the surroundings to discover the amazing Ribeira Sacra. A good plan will be, for example, a catamaran trip along the Sil river gorge. Rosende is the perfect place to do hiking through the native wood, vineyards or on the shores of the white water River Cabe. Also, other activities such as, kayaking with an instructor along the Sil or Cabe rivers, bicycle touring, fishing and horse riding in the nearby premises, as well as, skiing in the winter resort of Manzaneda located at 60 km., can be done near the Pazo.